2013 Meeting Schedule
Board Meetings - First Thursday of month (except August and December) at 7:30 pm at the Great Falls Library.
Additional Board Members
Loretta Arey
Sue Bennett
Steve Gray
Eric Knudsen
It is with great sorrow that we said goodbye to Great Falls co-founder and President of 10 years, Eleanor Weck, on May 27. Her guidance and beautiful personality will be missed.
News & Upcoming Events
Sign Up for Trail Teams!: GFTB has been really blazing! Now we need our motivated members to help to maintain our trails. Trail work is a perfect activity for families, teens needing community service hours and anyone who wants to get outside and improve the community. In many cases, work will only need to be done twice a year (spring and fall), and teams will plan work days when it's most convenient to its team members. Sign up now! You do not need to join Sign-Up Genius to sign-up for a team.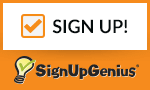 To keep up with the latest Trail Blazers news, activities and upcoming events, visit our new Facebook page.
It's Official: Walking is Good for You! In case you missed the recent article in the Washington Post, you can click here to retrieve it.
| | |
| --- | --- |
| Get your Great Falls Trail Blazers cap at The Saddlery or Saffron Grill ($12, of which $8 is tax-deductible). | |
Trail Etiquette. Many of our local trails are on private property. Help us keep these trails open for all to enjoy by following these guidelines.